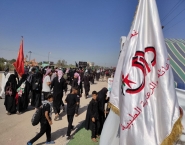 2021/9/24
DARY organization provided a medical for emergency aid and treatment for visitors on the Diwaniyah road leading to Karbala, which included a medical team and another trained in first aid to help provide a supportive health effort to the governorate's health department and the MoH units.
Over the course of seven consecutive days, the medical unit of DARY received more than (40) thousand visitors, including hundreds of patients and exhausted cases due to the long distances that the visitors walk, where the medical team provided it with first aid, health care and treatment, and the organization's field team contributed to providing physiotherapy for those They suffer cramps as a result of walking.
Also DARY team in Diwaniyah also provided health awareness for visitors to avoid infection with the Corona virus (COVID19) and the need to follow health measurements and rapid prevention when they have any symptoms until they reach the nearest health facility, in addition to distributing sterilization materials to visitors.
While DARY organization commends the great efforts of its members and volunteers in Diwaniyah and what they have done during days of giving, the organization also thanks all the parties cooperating with it to enhance the humanitarian volunteer effort to serve the visitors.
To inquire, donate and volunteer in DARY organization please contact: (07730255277-07730266277) or e-mail daryhuman@gmail.com or visit our
website http://daryhuman.org/ or
Facebook page https://www.facebook.com/DaryHuman/

To contact the head of the organization, please contact the following addresses:
daryhuman@gmail.com
info@daryhuman.org