Activities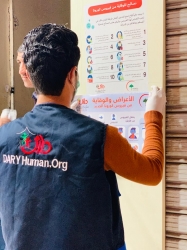 2020/4/27
The (DNGO) in the Council of Prime Ministers documented (31) campaigns implemented by "DARY" to contribute for confronting the pandemic (Covid-19), which included (21313) beneficiaries during the period from (7 - 13) current April, in a step that
DARY considered an inducer for humanitarian work and in support of Humanitarian efforts provided by the (DNGO) against the epidemic. DARY campaigns, which the (DNGO) documented (31 campaigns) were distributed in a report published on its website, by (10) campaigns implemented in Baghdad for schools sterilizations , governmental and private institutions and mosques, in addition to awareness activities and the distribution of personal protective requirements, as the number reached (7214) beneficiaries from the capital citizens . while for Diwaniya, (DNGO) in its report that "DARY Organization" carried out (4) campaigns that included sterilization residential areas and distributing household sterilizers and food baskets, as the number of beneficiaries reached (1040) citizens. The report also included documenting (12) campaigns implemented by "DARY" in Anbar, which varied between sterilization, awareness, and distributing personal protective equipment, as they included areas (Amiriyat Al-Fallujah (AAF) , Ramadi, al-Qa`im, Amiriyat al-Samoud, Habbaniyah HTC) and other areas of the governorate, especially where camps for the displaced exist (IDPs), and the residential and commercial gatherings centers, where the total number of beneficiaries reached (6554) citizens, while in the province of Nineveh, the organization has conducted (5) major campaigns for sterilization the IDPs camps at (Al-Jadaa 5) and sterilization of other areas far from the centers of cities, where the total number of beneficiaries Of these campaigns (6505) citizens.
DARY organization on the top, according to the statistics published on the website of (DNGO) among all participating organizations by the highest number of beneficiaries of the preventive campaigns against COVID-19 and the assistance of those affected by the repercussions of the pandemic, as well as the implementation of more than (40) campaigns to prevent the virus at March, to be in total of (70) prevention campaigns provided by
DARY , in Iraq, with a total of approximately 80,000 beneficiaries. DARY Organization thanks and appreciation to the (DNGO) for its stimulation of humanitarian action and its continuous support for civil society organizations in all fields. To inquire, donate and volunteer in DARY organization please contact: (07730255277-07730266277) or e-mail daryhuman@gmail.com or visit our website http://daryhuman.org/ or Facebook page https://www.facebook.com/DaryHuman/ To contact the head of the organization, please contact the following addresses: daryhuman@gmail.com info@daryhuman.org
Read more ...
---
---
---
---
---
---